Handing your teenager a set of keys can be an exciting and scary moment for everyone in the family — but you can all rest easier by adding a few simple devices to the vehicle. Here are five ways to make your teen's first car safety.
Install a smart backup camera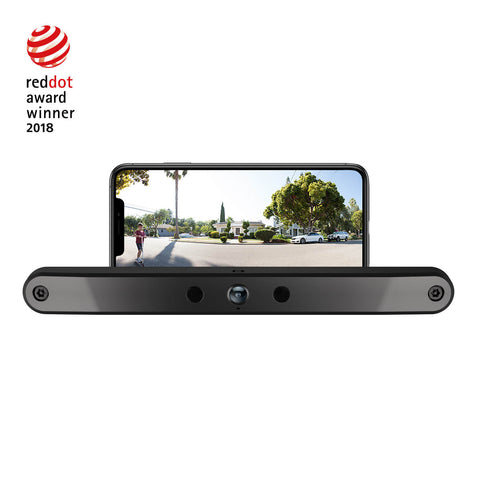 You don't have to have the newest car to be able to back into, or out of, a parking spot with confidence. Nonda's smart backup camera can help your teen see everything with a 170-degree wide angle camera that is at least four times clearer than a standard camera. It pairs directly with your smartphone and is easily installed with no drilling or wiring. It fits all car models — even the oldest — and lasts for two months before it needs to be recharged.
An emergency assistance package
Teaching your teen how to drive defensively is crucial, but sometimes accidents happen and an emergency assistance package will help keep them safe in the occasion something goes wrong. Installing an emergency service like OnStar could save your teen's life in the case of a crash. The mirror costs about $175 and is available at Best Buys across the U.S.
A smart car charger with GPS can help you keep tabs
Part of teaching your teen car safety is helping them find a balance between using their cell phone as a driving tool and not letting it be a distraction. Installing a mount on their dashboard is a simple way to ensure the phone is out of their hands, but can offer helpful directions if they're driving in a new place.
A smart car charger is also a useful tool to keep your teen driver safe and in reach. Not only does Nonda's charger charge devices twice as fast as other brands, but it allows parents to track their teen's car via smartphone and offers a variety of other useful tools, like a GPS car finder and battery monitor, so your teen won't get lost of stranded.
A blind spot sensor system can prevent crashes
Highway driving is stressful at times, and a blind spot can be tricky to navigate, even for experienced drivers. You can't teach other drivers to stay out of your teen's blindspot, so take the guesswork out by installing a blind spot sensor system that will alert them visually and audibly when they try to merge or switch lanes into an oncoming vehicle.
Prevent breakdowns with a smart vehicle health monitor
A simple way to ensure your teen's safety is to keep their vehicle in tip-top shape. The Smart Vehicle Health Monitor is an affordable, compact way to keep an eye on what's going on under the hood. Once installed, it will send you or your teen real-time alerts about engine error codes, tire pressure, gas mileage and more. Plus, its simple and sophisticated design makes it a convenient companion in every car.