You know your car best. You drive it daily and know what it should look, sound, and smell like.
But when something goes wrong, like your check engine light comes on or you hear an unusual sound from underneath the hood,  you may find your car not familiar as it should be. That's where a car diagnostic test can come in handy.
During the Covid19 pandemic, you can try to do car diagnostic tests at home by yourself when all the dealers are closed. This guide will walk you through the most common questions about the car diagnostic test and how to do it by yourself.
What is a Car Diagnostic Test?
A car diagnostic test can determine if your vehicle has issues with its engine, exhaust, transmission, ignition coils, oil tank, throttle, and more.
Car diagnostic tests are usually done in dealer shops and mechanics, while you can also do it by yourself at home. Though sounds complex, a car diagnostic test could be done in a short period of time and at a low cost by yourself.
How Often Do You Have To Do A Car Diagnostic Test?
It's a common issue that when we only take our vehicles to the mechanics for diagnostics, we will wait until there's a severe malfunction or breakdown, as it's time-consuming and relatively expensive. (Question, have you ever ignored a check engine light until it's time for an inspection?) 
If you learned about how to do a simple diagnostic test on a car by yourself, you can do it regularly and prevent severe problems from happening, as you can see minor issues and fix it with simple repairs long before it's become a major problem and cost hundreds or even thousands. It's definitely a more efficient and cost-effective approach than taking your vehicle to the mechanic till it's broken down.
How Long Does a Car Diagnostic Test Take?
A normal car diagnostic test should only take a few minutes to complete. Every car diagnostic test starts with check engine light code reading, AKA OBD2 Codes reading, and this will only take several minutes. The mechanics will plug in a car diagnostic scanner to read the trouble codes which indicates where the problem is. 
After pulling the Diagnostic Trouble Codes, the mechanics will then do some investigative work to get a more accurate picture of what is functioning incorrectly and how best to fix it depending on the error codes that appeared. 
If you decide to take your vehicle to an auto shop, you should be prepared to wait a little bit before the test and stay afterward to discuss what issues were found and how they can be resolved. I'd say you should expect to spend at least an hour for any car diagnostic test, and 2-3 hours could be a reasonable estimate.
How Much Does it Cost To Do a Car Diagnostic Test?
The cost of a car diagnostic test can vary greatly depending on your vehicle's model, make, and the issues. Experts say you can expect to pay anywhere between $40 and $400 for a car diagnostic test in dealer shops, and that's before any repairs are done.
Although there are places that claim they provide free car diagnostic services, they mostly have a hidden fee. For example, if you check in detail about the services of an auto shop, you can see that only the first part, Engine Light Code Pull Service, is free. They will mostly conduct further investigations based on the code they got and continue to bill you for the labor fee for around $40 to $400. Also, if you decide to go to an auto shop, such as Autozone, to perform a Code Pull, they will mostly recommend you to buy the scanner at the place. 
If you would like to bring the vehicle to an auto shop as you notice a severe problem, please feel free to check 5 tips to find a good mechanic here:
Related Reading: 5 Tips to Find a Good Mechanic and Avoid Scams 
However, as the code pulling is rather simple and could be done by yourself easily, we highly recommend you to do it at home. We will explain in more detail in the next part.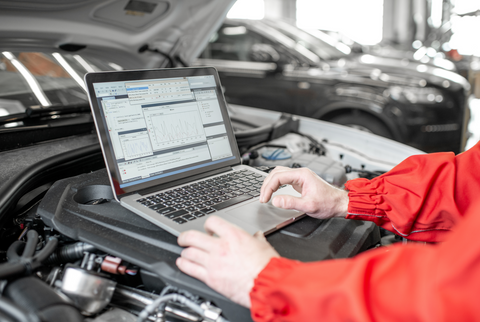 How Do I Do A Car Diagnostic Test at Home?
Although sounds complex, car diagnostics is not as you might imagine: check every part of the car and MAGICALLY SEE what might be faulty. Actually, a car diagnostic test consists of two steps and could be done at home without professional knowledge. All you need to do is read the OBD2 Codes and interpret it.
Step 1: Diagnostic Trouble Codes (DTC) Reading
A car diagnostic test always starts with reading the Diagnostic Trouble Codes, AKA Onboard Diagnostic Codes(OBD Codes). The Onboard Diagnostic system was introduced and made mandatory for all vehicles sold in the United States since 1996, setting up a trouble code manual of all self-diagnostic results. Thus, for all cars sold after 1996, you can use a standard OBD2 scanner/reader to do the car diagnostic test. For more information about the OBD2 Codes, check our blog about it:
Related Reading: All You Need To Know About OBD2 Codes
With the OBD2 Scanner, you can read the diagnostic trouble codes/ check engine light codes from the vehicle computer, and have a list of codes that indicates where the problems may come from. It doesn't tell you what the problem is specifically, but you can get information about what the issue might be, and how to diagnose and fix it. 
There are a lot of OBD2 scanner/car code readers in the market, and here's a complete buying guide of the OBD2 scanners about the major types, how to select, and how to use them. More importantly, we are doing a FREE GIVEAWAY campaign now on our smart Bluetooth obd2 scanner now, and you can get it HERE with a low shipping fee. We believe that with a tool like this, you can know your car better and avoid many big issues from happening with easy install and use.
Related Reading: Best OBD2 Scanner & Code Reader: Complete Buying Guide
Step 2: Interpreting The Codes And Further Investigation
With the list of codes, now what you can do is to know what they mean and diagnose what the problem might be.
For example, a code P0442 indicates Evaporative Emission Control System Leak Detected Small Leak. The code has possible symptoms, possible causes, and several steps of simple diagnosis that you can do yourself. The code can be triggered because of a loose gas cap or a broken EVAP Line that might cost $20-$100 to repair and replace. The actions to take varies depending on the code itself, other codes on the list, and the car makes.
For some Bluetooth OBD2 Scanners, the APP bundled with the code reader will give you information about the codes. Or if you have a traditional elm327 or a wired tool which will not show the explanations of the codes, you'll have to search for the explanations on google.
For your convenience, we built a website of all diagnostic trouble codes and their explanations, including possible symptoms, possible causes, and sometimes with detailed step-by-step diagnostic methods and simple fixes. If you have a list of codes from your obd2 reader and don't know what it means, check the website for details!
Related Resource: Search for the Diagnostic Trouble Codes you Got
Step 3: Watch the Video to Fix Your Car at Home
With nonda's Smart Vehicle Health Monitor and the ZUS app, you can get full diagnostics of your codes as well as a dedicated short video to teach you how to fix them at home. Check out the video below and see how it can help you save thousands of dollars on car expenses:
How to Fix P0420 Engine Code in 3 Minutes [3 DIY Methods / Only $4.97]
More videos of troubleshooting DTC codes:
P0171 - System Too Lean (Bank 1)
P0456 - EVAP Control System Leak Detected (Very Small Leak) 
P0300 - Cylinder Misfire Detected, Random/Multiple Cylinder 
P0400 - Exhaust Gas Recirculation (EGR) Flow Malfunction
P0128 - Coolant Thermostat Malfunction
All videos are produced by nonda Auto DIY Center. Check out their YouTube channel to learn more about DTC codes. 
Remember, you don't have to be an expert!
As explained above, the car diagnostic test is not as mysterious as you might think, and it's totally ok for you to do it yourself. You don't have to be an experienced mechanic before starting checking your vehicle: you can start it with little knowledge and you can also save a lot of time and money.
You can do some simple fixes based on the codes presented, and save a lot of money when complex repairs are not needed(which is most of the cases). If you find that a part of the car needs to be replaced, or some complex diagnostic tests should be done to fix the problem, you can then take the vehicle to a mechanic with primary knowledge and avoid unnecessary payment.
Conclusion
Car diagnostic tests are crucial for vehicle health, and it's recommended that you do it regularly to prevent minor problems from becoming a big issue. Although bringing your vehicle to a mechanic will be a hassle-free choice, you can do it at home to save a bunch of money if you don't see or feel something badly "off". Even if you cannot fix the problem, you can then go to mechanics with primary knowledge and prevent scams.
An Easy Step: Try The ZUS Smart Vehicle Health Monitor FREE
Car diagnostic tests are conducted to understand the vehicles more and keep them in good health. It's more than clearing the check engine lights. To monitor the vehicle condition, we designed the ZUS Smart Vehicle Health Monitor to help drivers understand their vehicles better.
How it will help:
Real-time vehicle condition monitoring

Checks the vehicle health every time you start your vehicle

Easy to install and use

Alerts issues when OBD2 codes appear and explanations about the codes

Records all OBD2 codes in history

FREE device with FREE APP on both Android and IOS!
We are now doing a FREE GIVEAWAY campaign on the product to help more drivers stay safe. Please feel free to check it out and DON'T MISS IT!
Also, feel free to leave your comments and start conversations in the comment section below. We would love to add more content to the article to help readers.